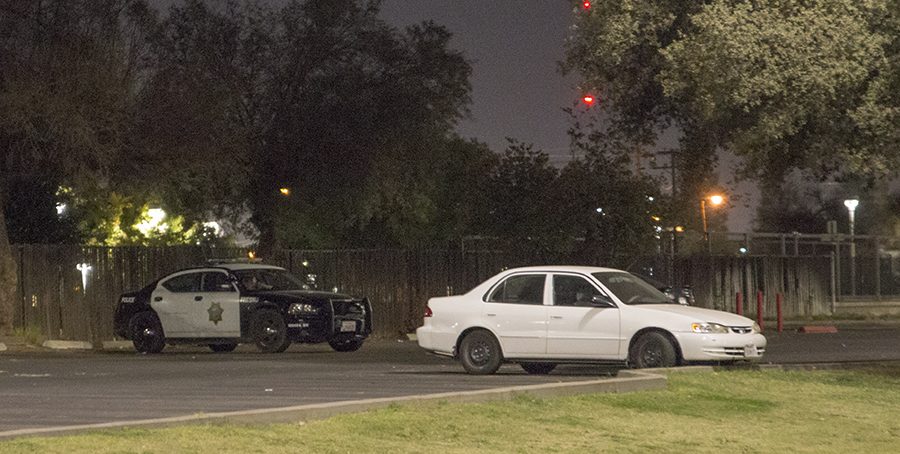 Larry Valenzuela
The State Center Community College District's recently negotiated contract with the Fresno Police Department is designed to fill the gaps in staffing within the district's police force.
"We've been trying to establish some means to provide a better level of service to the campus, the faculty and anyone who comes to this little city in itself," said Dave Paris, interim chief of the SCCCD police, said.
Officers began regularly patrolling the campus on Oct. 12, but negotiations had been underway for some time, according to an email from Carole Goldsmith, president of FCC to the faculty.
Goldsmith's email about the extra campus patrol came two days after an Oct. 10 incident  during a 6 a.m. math class in the Old Administration Building.
According to accounts of the incident, a student armed with a knife was forcefully trying to get into a classroom that was full of students. The professor, Ray Stanton, fought back until police arrived on the scene some 20 minutes later, according to Stanton.
"We were already discussing a contract for services with agencies that neighbor us so when this [Oct. 10 incident] came about, it had just happened," Paris said.
The first to respond to the incident was Fresno Police, who did not make an arrest. However, a weapon was taken from the suspect.  
Incidents like the one on Oct. 10 aren't isolated.
The campus police recorded an attempted burglary, possession of a weapon and resisting a peace officer — all on the same day.  Also on Oct. 20, separate reports of sexual battery and lewd acts were recorded in the call log.
The lack of police officers has spurred the district to call on the city ahead of the Nov. 1 board meeting, when trustees are expected to approve funding for the contract between the city and SCCCD.
Meanwhile, outside officers roam the campus throughout the day in an effort to ensure safety for students and everyone on campus.
"This is a stopgap measure to increase coverage while we recruit for vacant positions in the SCCCD police department," Goldsmith said. "The Fresno Police Department will be working in tandem with district police to ensure that our students, staff and faculty are safe, and our property is protected."
Interim chief Paris said that Fresno PD will be supplementing campus police when additional hands are needed.
"[Fresno police are] going to be just like us, and they're just going to be able to support us in our calls for service," Paris said.  "If we get backed up where we can't, then they'll be able to handle the call; they're there to assist us on the calls we need."
All officers, whether district or city police, will be working under Paris when on campus, and "the chain of command will come from [the district]."
The district is currently lacking over a dozen police officers, and in the October personnel commission meeting, Personnel Commission Director Elba Gomez made a request to go over budget on background checks for officers.
"There's a lot of jobs available, and there's not a lot of opportunity for police departments to hire," Paris explained.
The problem, in many cases, is the lack of interest in being a district police officer.
"Salary and benefits are the reason police aren't drawn to SCCCD," Paris said. "It's hard to compete when you've got agencies offering $3,000 to $10,000 signing bonuses. SCCCD can't match that."
On Oct. 20, the district began interviewing 19 applicants.
If all of the potential officers pass necessary requirements, the department anticipates a full staff by the end of spring.
The state mandates a 16-week training program for new officers and an 8-week training program for officers with experience.
"You have to calculate your hiring process, then you have to calculate in your field training program," Paris said. "If we get successful candidates in this testing cycle right now, we might have the number. The issue will be the field training program."