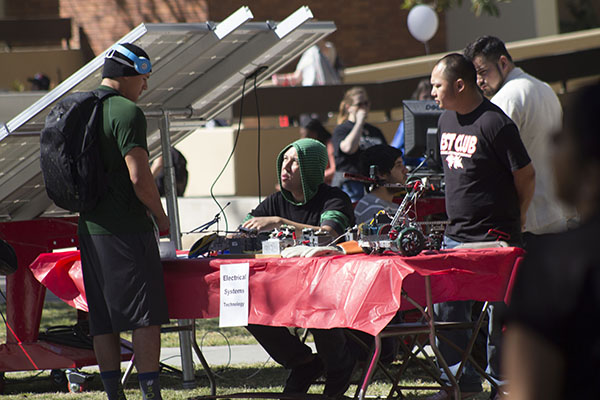 Albertina Rodriguez
Fresno City College's annual showcase brought together all of FCC's course departments and clubs for the community and student body to look and learn about what the campus has to offer on March 26.
The showcase is full of different tents throughout the campus and each puts out a small demonstration to attract the interest to people who stop by.
The Math, Science and Engineering courses and club showcased some of their most popular displays that they thought would catch the eye of people's attention passing by.
Some special events also was shown on this day such as The Disability Awareness showcase  took place in this event it was a showcase that caught many people's attention on behalf of the production oriented course for the mentally disabled students.
This showcase had special performances such as some of the mentally ill students dancing with some of their professors as the crowd of people gathered around to see the amazement of what was performed along with the music that was played that also got people's attention.
"This class is designed for disabled students and it's a certificate program and it's fourteen picks/ fourteen units and it usually takes a student two years to complete the program" said Jerry Hentzler, Adaptive Ornamental Horticulture Instructor at Fresno City College.
This annual showcase was overall successful thanks to one of the attractions that grabbed people's attention such as Fresno's bomb showcase and the type of stuff that the program has to offer for anyone who is interested.