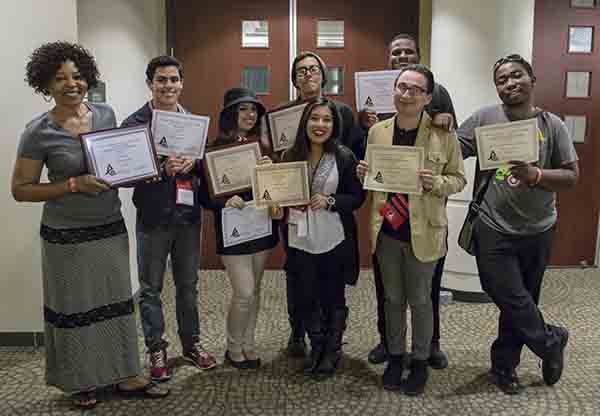 Editors and reporters of the student-run newspaper, the Rampage, won many awards at the Journalism Association of Community Colleges Conference held at CSU Sacramento last weekend.
The Rampage received an award for General Excellence for its content, design and coverage of the Fresno City College community.
Editor-in-chief, Lauren Baker and Opinion Editor Jarrett Ramones were awarded  first place for illustration and an honorable mention each for editorial cartoons.
"In my time here at the Rampage, this was definitely among my favorite experiences so far. I didn't expect to win first place," said Baker. "Moments like these make the whole experience worthwhile  and sharing it with the friends you make along the way makes it even better."
Other awards won by Rampage staff include a second place in opinion writing by former editor-in-chief Kaitlin Regan.
Cresencio Rodriguez got honorable mention for news writing, and shared a fourth place award with Patrick Forrest, and Kaitlin Regan for an enterprise story on the drought and President Obama's visit to Fresno.   
"Winning [the award] was cool, but I am going to remember more of covering [the presidential visit]," said Patrick Forrest, "award or no award, I will always remember covering the president."
Students attending JACC were able to attend workshops that provided information on various ways they can become successful professional journalists in the industry and were shown tips and methods for using their skills for success.