Talent Night Online Party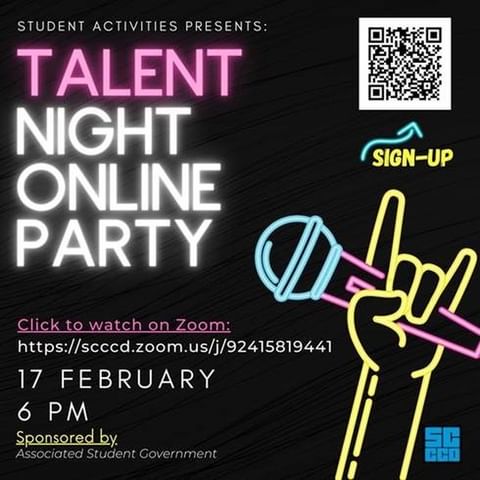 The Talent Night Online Party is a monthly online event across the State Center Community College District for all students to show off their talents.
The event is hosted and was founded by Madera Community College Associated Student Government advisor Paul Torres as a way for students to express themselves after the pandemic hit.
According to Torres, the event has been hosted a total of seven times with its most recent taking place on Feb. 17.
Madera Community College Associated Student Government and student activities brainstormed ways to keep in touch with students through online events involving other campuses.
"We want to make it a fun night where students come together and listen to their talents," Torres said.
Poems, songs, dramatic readings, and parodies are examples of what students can offer during the event.
Torres organizes the dates for the event and shares it with the campuses of the SCCCD. 
There is no specific schedule to the Talent Night Online Party, but Fridays are avoided.
Promotional content for the event is sent out on social media platforms like Facebook and Instagram in hopes of attracting students.
Student Activities is responsible for sharing links with student leaders in order for them to email them out to students interested in joining.
"I try to make it fun and include the group. At first when they join they don't know what to expect, Torres said. "By the end of it I think they're able to understand that it's something that was awesome that happened."
According to Torres, there are 15-20 students that attend on average along with 10-12 faculty and staff members as well.
Torres believes that the way that the event is advertised should be improved to draw more attention. 
"I'm trying to incorporate classes and classrooms so that instructors can share the event with their students," Torres said.
Lupita Lopez, a nursing major at Madera Community College, is a returning student for the Talent Online Night Party.
Lopez started after the second meeting on Feb. 8, and shares poems she creates when she attends.
Although she was nervous for her first time, it got better the more she came to the event. 
Lopez is looking forward to making another poem and other people who can show up, however she believes that word about the event can be spread more.
"Everybody who gets the invite should forward it because the school can only do so much," Lopez said.
Nico Martinez, a Theatre Arts major at Fresno City College, hasn't heard of the Talent Night Online Party prior to the latest event.
Although he states that he would be interested in going, responsibilities at work and school keep him from having the time to attend.
Malik Rodriquez, a Business major at FCC, expressed interest in joining the next event to see what talents are shown.
"Hopefully, I would like to see people playing instruments and singing," Rodriquez said.
He plans on performing a magic trick or presenting a speech when he takes part in the upcoming event.