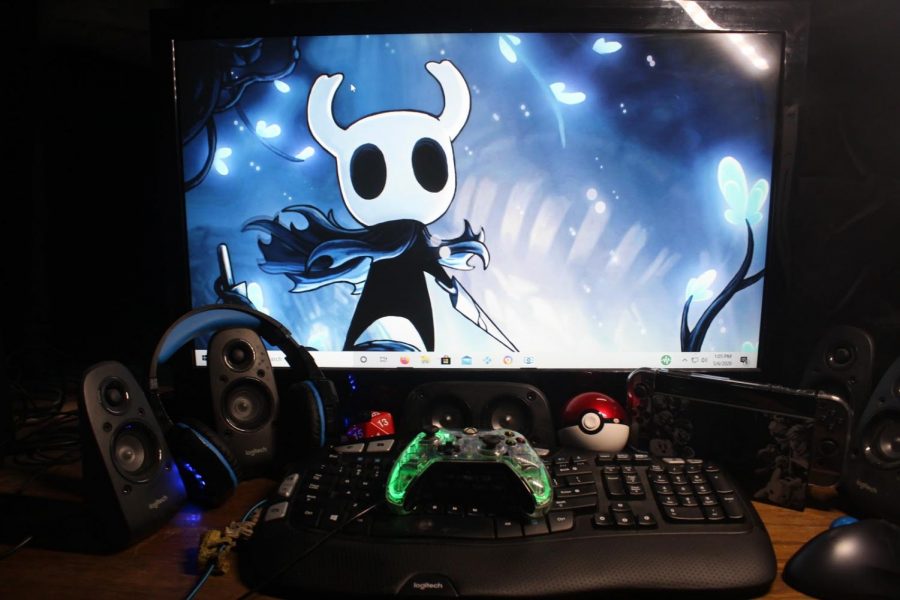 James Mora
Shelter-in-place has closed storefronts, limiting customer access to new video games.
Release dates have been delayed due to COVID-19.
COVID-19 even canceled The 2020 Electronic Entertainment Expo (E3) which is the biggest video game event when it comes to game announcements.
Notable games that got delayed were "Cyberpunk 2077," "The Last of Us 2," and "Iron Man Vr."
The two major exceptions that were able to avoid these delays were "Animal Crossing: New Horizon" and "Doom Eternal."
With all these highly anticipated games now on delay gamers are wanting to find something else to play to pass the time.
These are the top five games I would recommend during the quarantine.
"Hollow Knight" created by Team Cherry
"Hollow Knight" is a single-player 2D Metroidvania action-adventure game that is available for Playstation 4, Xbox One, Switch and PC.
The gameplay is based on exploration of the game's world Hollownest, combat with various types of enemies, and collecting upgrades as you progress through the game.
Hollow Knight's mechanics are simple but gameplay can become difficult for players later on in the game.
Fans of the "Dark Souls" series will have a sense of familiarity with how the game presents its story and sharing similar mechanics.
Both games share the same mechanic that your currency is lost when you die in game and have to get back to that location to get it back or lose it permanently.
They also share the same narrative style of making the lore a challenge to find and doesn't explain what happened allowing players to discover the lore through gameplay.  
Players that are interested in exploration in a unique world or quick action combat this game is one to consider playing before its sequel "Hollow Knight: Silksong" is released.
"Red Dead Redemption 2" created by Rockstar.
Red Dead Redemption 2 is an action-adventure game in an open world sandbox of the American Western.
Live the fantasy of being a cowboy in the American West where you can ride horses, hunt wild game, play poker, and follow the story of the main character Arthur Morgan.
Fans of the "Grand Theft Auto" series will find that "Red Dead Redemption 2" has the same gameplay and humor that Rockstar is known for.
The story of "Red Dead Redemption 2" takes place before the events of the first game of Red Dead Redemption that came out in 2010.
"Red Dead Redemption 2" also has an online mode for players to enjoy the world along with their friends and other fans of the series.
This game has hours of gameplay for anyone who wants to follow the single-player experience or go online and play with friends on Playstation 4, Xbox One, or PC.
"Octopath Traveler" created by Square Enix.
Octopath Traveler is a turn-based role-playing game where players take control of eight characters and explore each of their stories.
The game world is visually different in what the developers call HD-2D style where it resembles retro pixel graphics but the environment is 3D.
Like most turn-based games the combat isn't fast and flashy but slow and focuses on strategy.
Players will have to use the special abilities of the eight heroes to complete side quests for the different non playable characters (NPC) that inhabit the game.
Level up and customize your heros that best fit your playstyle and battle your way through challenging boss fights.
If you are someone that has a Switch or a PC and want an experience focused on creative storytelling then this is a game to consider playing.
"Jackbox Party Pack" series created by Jackbox Games.
"Jackbox Party Pack" is a collection of multiple party games ranging from trivia, drawing contests, and other skill-based games.
What's unique about these games is your cell phone is your controller and only one person needs to own the game to play.
With many video sharing apps like Skype, Zoom, and Discord it's a great game to play while everyone is part of a group call.
The "Jackbox Party Packs" come with five different party games or you can go to their website www.jackboxgames.com and purchase the games individually.
Jackbox has a variety of party games that anyone who has a Playstation 4, Xbox One, Switch, or PC should be able to find a game that they can play with their friends over the internet.
"Shovel Knight Treasure Trove" created by Yacht Club Games
"Shovel Knight Treasure" is a 2D side scroller platformer that excels in retro style gameplay and has 4 different stories players get to play through.
Players can play the main story of Shovel Knight then play through the perspective of 3 of the villains of the game Plague Knight, Specter Knight, and King Knight.
This game is great to pick up and play for short game sessions but is also engaging enough to play for multiple hours on Playstation 4, Switch, Xbox One, and PC.
These are my suggestions of games that players may have missed when it was released or didn't have the time to finish the game.
If none of these games appeal to your interest then there is one last thing I would recommend.
Browse and fill out the surveys on the online game stores to receive your personal list of recommended games that fulfill your needs.