Mythological Giant: "André the Giant" Documentary Review
Hang on for a minute...we're trying to find some more stories you might like.
HBO released an in-depth documentary on the near mythological life of André Roussimoff, better known as "André the Giant" in the documentary of the same name. The 90 minute documentary delved into the heights of such a mythological figure and the lows of a man who was stuck living in a small man's world.
For wrestling fans, much of the over-the-top and oft corroborated stories may not come as a surprise to those who know of André. But for much of the general public, the documentary does an excellent job in telling his story. They dive into his humble beginnings as a young boy growing up in rural France to traveling around the world in a circus-style fashion through different wrestling promotions.
The story starts out with André at a young age coming to terms with his size, learning later in his life that he suffered from acromegaly (a hormonal disorder); which was ultimately his demise. This  was a way for him get away from the countryside and live a life of superstardom. As you watch the story of a man cashing in on the unprecedented size used to turn him into a cultural icon, you also begin to see the tragic end of a man's time in the spotlight and on this earth.
If you were born after his untimely death in 1993, you have only seen video footage and hear stories of this mythological figure . The more you experience his presence onscreen, the more the myth of a man grows; especially in a bygone era where things were not as accessible as they are today. The traveling giant was a spectacle to behold when he arrived in your territory.
Interviews from prominent wrestling figures such as Vince McMahon, Hulk Hogan and Ric Flair give insight on both the wrestling figure that André was and the side of him that most people were not aware of. Wrestling journalist Dave Meltzer also gave insight on how the presence of André in the wrestling business had a hand in transitioning wrestling from the territorial settings it once was to the garnering of national popularity in the mid-1980s.
Throughout the documentary, those interviewed would tell stories of how he would make men in the wrestling world typically considered abnormally large in society cower in fear of him. Yet in privacy, he would be the epitome of a gentle giant. They spoke of how he once drank 106 beers in one sitting and how he would guzzle four bottles of wine a day in order to cope with the pain of living in a normal world with an abnormal life. André would often tell others that they were lucky to be able to live a normal life and not go through the pain he suffered.
The climax of his life and the documentary itself retells the lead up to the WrestleMania III which pitted André, who was barely able to move on his own accord, against Hulk Hogan, who was poised to take professional wrestling into the next stratosphere and whether or not André was willing to cooperate with the match itself. As weeks went by, both Hogan and McMahon were not sure if the finish of the event would go as planned, until the very moment the match started and match ended. Although the glory of bringing wrestling into the mainstream goes to Hogan and McMahon the ultimate gatekeeper was André.
In the final moments of the documentary as they recount the passing of this "larger than life" figure, each interviewee spoke of how André was the person to credit when it came to making the wrestling business what it is today. One can feel the emotions evoked by the memories those have of André and in a watershed moment the usual stone-faced McMahon was brought to tears, summarizing the impact André had both culturally and personally.
HBO did an excellent job telling the story of André the Giant by mixing riveting moments of action, compelling stories from interviewees and the humanizing perspective of André that many can relate to, making his memory stand the test of time.
Grade: B+

About the Writer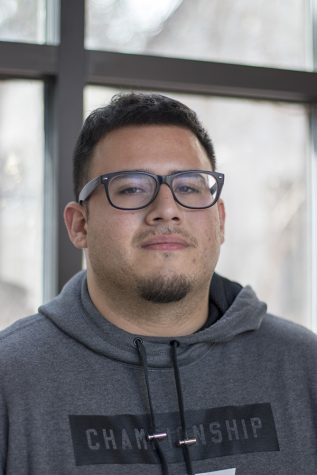 Anthony De Leon, Sports Editor
Anthony De Leon is a 23 year old 3rd year Fresno City College student and is starting his third semester writing for The Rampage and his second semester as Rampage sports editor. Becoming a Journalism student in 2014, Anthony has a passion for all things sports, music, and opinion. Born and raised in Fresno, his plan is to finish up his Associate Degree in both Journalism and Communications transfer over to Fresno State in the Spring of 2019. During his time at The Rampage he has covered numerous events including 2018 Grizzly Fest and the WBC world title fight between Jose Ramirez and Antonio Orozco.
Anthony has experience writing articles in music for his blog "Hip-Hop's Passin Me By," where he would write album reviews amongst other topics. In his spare time Anthony frequents music festivals which have included Coachella, Life is Beautiful, Hard Summer, and many others. Anthony has dabbled in amateur photography and has experience in that field. Anthony also received Honorable Mention in Sports Game Story at the Journalism Association of Community Colleges 2018 state competition. When not in the newsroom Anthony has had experience on the gridiron coaching football for both McLane and Sunnyside High School and with 4 years of coaching under his belt. Anthony's career aspirations include working for a major news organization and being a sports talk radio personality.