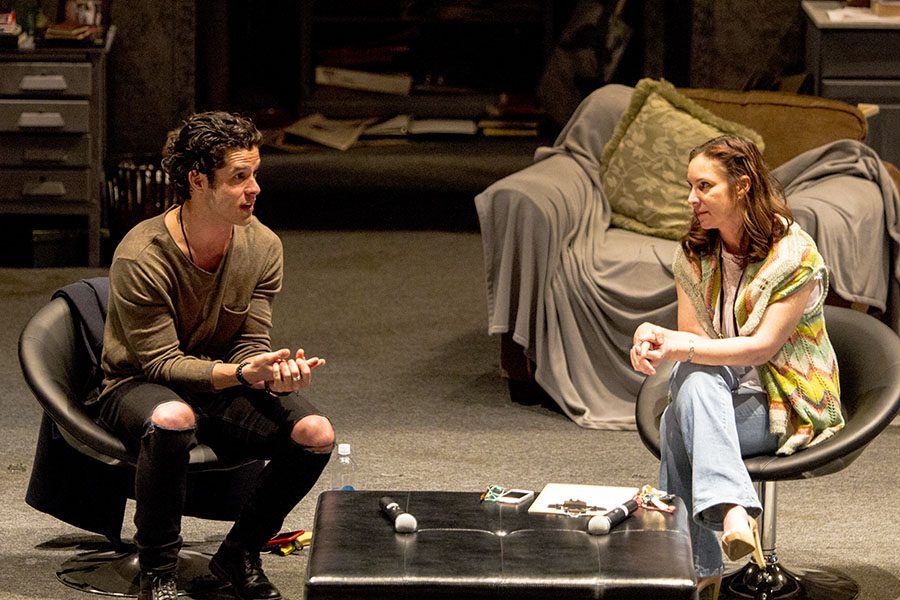 'Law & Order True Crime' Star Miles Gaston Villanueva Inspires FCC Students
Photo by: Noah Villaverde
'Law & Order True Crime' Star Miles Gaston Villanueva Inspires FCC Students
March 13, 2018
Actor and Visalia native Miles Gaston Villanueva told a Fresno City College audience about his success as a professional actor in Los Angeles during the  third annual Theatre Festival on March 7.
Villanueva told his own stories working as a professional actor in Los Angeles during the official discussion, moderated by FCC theatre instructor Janine Christl.
Villanueva, has appeared in numerous television series', including in a main role as Lyle Menendez in "Law & Order True Crime," starring alongside three-time Emmy winner Edie Falco.
Villanueva's other television series credits include "Days of Our Lives," "Chasing Life," "The Young and the Restless,"  "Jane the Virgin," and "The Fosters."
Through first-hand accounts straight off of his experiences on the sets of soap operas, TV series and in theatre, Villanueva reflected on experiences in which he worked alongside actors and actresses he looks up to.
He starred alongside Academy Award-winner Al Pacino and two-time Tony winner Judith Light in Pasadena Playhouse's production of "God Looked Away," telling the story of legendary playwright Tennessee Williams.
Villanueva fondly remembers his experience working on that play, briefly mentioning how he referred to the legendary "Godfather" star.
"It's Al by the way," Villanueva said. "It's not Mr. Pacino."
Villanueva said his acting résumé was achieved through his persistence, crediting his theatre background in honing his craft. He also warned students of his professional frustrations.
"Some days, you're extremely busy with auditioning," said Villanueva.
Villanueva said after the discussion that students need to maintain a sense of hope when pursuing careers in entertainment.
"There can be no lack of hope in this business," said Villanueva. "We lose hope quickly if we don't get an audition, book something, if some casting director is mean to us or we have a bad experience with an actor on set. They can be hopeful, excited and curious about their future and even with where they are now with writing, acting, directing and creating."