Erven and Cast Excited about 'The Whale's' Real Life Issues
Hang on for a minute...we're trying to find some more stories you might like.
Fresno City College Theatre Arts instructor Chuck Erven said he is looking forward to directing "the Whale", because of the exploration of certain character dynamics and themes.  
"The Whale" by playwright Samuel D. Hunter will feature guest artist Brad Myers as the play's protagonist Charlie, a 600-pound reclusive man trying to reconnect with his estranged daughter.
After an audition of more than a dozen students, Erven announced that the cast includes Aleah Muniz and Jocelyn Rodriquez (Liz), Claudio Laso and Joshua Plowman (Elder Thomas), Cat Evangelho (Ellie) with Ciara Montana as her understudy, and Bridget Manders (Mary).
Laso said his audition for the play was a personal best.
"I felt very confident in the monologue I had prepared, and the callbacks were great," Laso said. "It was fun reading the material because this show is very well-written."
Erven said that additional story elements make the play stand out.  
"It's very intimate and very honest; I love the characters, the message and its indictment of certain societal values," Erven said. "At its core, the play is about the reconciliation between a father and his daughter."
He added, "It is also a redemption story in which Charlie finds a way to feel he has done something right in his life."  
Erven said the issues in the play are relevant. "It fits with issues that are very universal and relevant today. The students can connect with these roles very well," he said.
Laso agrees with Erven on connecting with the roles.
"I hope to bring an honest depiction of someone who wants to truly do good," Laso said. "People should watch this show because it is beautiful, raw and life-changing and will leave you feeling heavily impacted."
"The Whale" plays  on March 2, 3, 8, 9 and 10 at 7:30 p.m. and March 4, 9 and 10 at 2:30 p.m. in Studio 105. Tickets are $14 for general admission, $12 for students and seniors and $8 for a group rate.

About the Photographer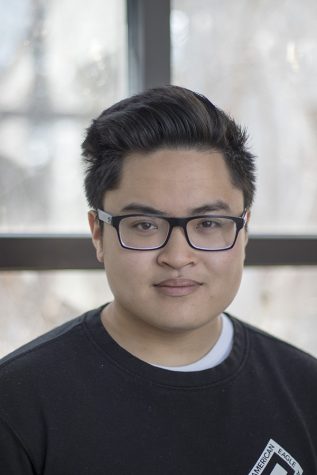 Noah Villaverde, Entertainment Editor
Noah Villaverde is a 21-year-old who currently resides in Fresno, California and is a Mass Communications and Journalism major at Fresno City College. He was born and raised in Fresno and is now serving his third semester with the Rampage and his first as the Arts & Entertainment Editor.
Noah's passions are intertwined within the popular culture. Ever since his adolescent years, he has developed an interest in cinema, television and music. His interests in cinema were first sparked after he watched "The Dark Knight" in 2008 after recovering from a fire that affected his family's home. What started out as a nice distraction for Noah turned into a passion that has followed him to this day.
Before he gained an interest in writing, Noah had a short-lived tenure on YouTube as a movie reviewer a la "At the Movies with Ebert and Roeper." The monopolized nature of YouTube eventually drove Noah away from that spotlight and soon allowed him to focus more on written reviews and quick blogs regarding film, television and comic books. Noah's blog writing eventually landed him a position as a staff writer at the comic book film/television blog Heroic Hollywood.
Besides reporting on popular culture, Noah also enjoys working behind the camera to craft news stories through video as well as editing them together. When not reporting or doing his schoolwork, he enjoys spending time with his family and friends, watching movies on both the big and small screens, playing the saxophone and volunteering as a church youth leader.
Follow Noah on Twitter @noahgreenark_V