'Pitch Perfect 3' is Not So Perfect
Hang on for a minute...we're trying to find some more stories you might like.
The third installment of the "Pitch Perfect" films has good acting and great music, but falls short with nothing other than high school toilet humor and a story that feels rushed.
"Pitch Perfect 3" will be liked by those who enjoyed the other two movies, because it's basically the same movie.
There are some good comedic interactions that made the original film a commercial success, but it just feels like they missed an opportunity to close the film franchise on a good note.
The film, written by Mike White, Kay Cannon and directed by Trish Sie, brings us a story that feels like it needed to be develop more and should have been longer than its 94 minute run time.
With that said, there is only so much of that type of comedy anyone can take, so maybe that's the reason the whole story felt rushed.
The acting is one of the only good things in the film. Anna Kendrick and Rebel Wilson along with Brittany Snow have great chemistry and their comedy plays well off each other. With the exception of DJ Khaled who seemed to be doing his own thing and John Lithgow's weird Australian accent, the casting and acting in the film was good.
Ruby Rose's character was a great antagonist in the movie, but eventually underutilized, making the character lose its essence.
Even though the film was set in an international stage, it never actually felt as if you were really there. It seemed as if the Bellas only traveled out twice in the entire film and only to drink coffee and visit a farmers market. At times it was so confusing that one was unsure if they were still in Italy or if they had moved on to France.
The film's plot seemed like it should have focused on one thing instead of two, either focus on the competition or focus on the story behind Rebel Wilson's character. Having both plots part of the story made it so that neither got a real resolution, giving the audience only a half of a story.
The film's end is just a feel good hollywood ending that really shows why there was no need for this third film to be done.
Overall, the film is a good laugh if you're into sexual and toilet humor, but other than that, maybe the musical aspects of the film will make it more enjoyable. Fans of the series will enjoy this film, but if you're looking for a laugh with a good story, I'm sure there are better options.

About the Writer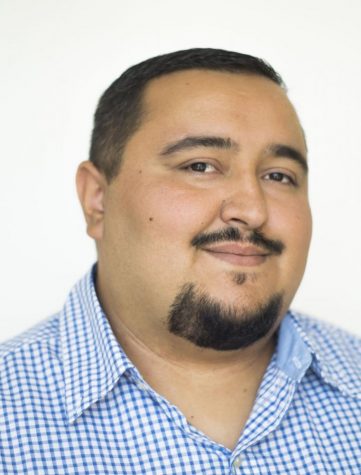 Jorge Rodriguez, Sports Editor
Jorge A. Rodriguez is 31 years old, and was born in Los Reyes de Salgado Michoacán, Mexico. When he was 10 years old his family migrated to the United States, and settled in the small community of Cantua Creek in the west side of Fresno County. There he attended Cantua Creek elementary for about 3 years until his family moved to the town of San Joaquin. In San Joaquin he attended San Joaquin Middle School for six months, and then he started high school in the town of Tranquillity. He would ride the bus every morning from San Joaquin to Tranquillity in order to attend high school. As a sophomore at Tranquillity High, Jorge took a media journalism class that sparked his interest for journalism and mass communication. Six months before he graduated from high school, Jorge's family moved from San Joaquin to the small community of Helm. After high school Jorge decided to join the United States Army, where he was an Artillery Cannon Crew Member, and was station for four years in Fort Hood, Texas. Jorge was enlisted in active duty for four and a half years, and during that time he was deployed twice to Iraq for Operation Iraqi Freedom. After his enlistment was up Jorge moved back with his family, and begun working as a tractor driver for an almonds farm. In the fall of 2014, Jorge decided to get back into school so he registered for the 2015 spring semester at the Madera Center with a plan to major in journalism and mass communication. This is his second semester in the Rampage and is the Sports Editor.