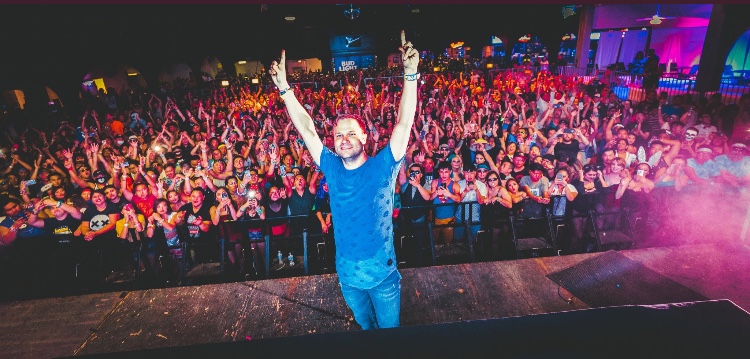 Photo by: Courtesy of Dash Berlin's Twitter
Dash Berlin Amps it Up in Fresno
World famous DJ Dash Berlin performed at the Rainbow Ballroom in downtown Fresno with a sold out concert on Oct. 28.
Since it took place during Halloween weekend, many fans were dressed up as cats, Power Rangers, angels and many more.
Doors opened at 9:30 p.m and lasted till 1:30 p.m.
Dash Berlin, born as Jeffrey Sutorius, first broke into the music industry in 2007 with his song "Till the Sky Falls Down."
Since then, he was signed onto the Armada Music label, and "shot to the top of the Trance charts worldwide," according to Dash Berlin's website.
Many of his fans in Fresno were excited to see Dash Berlin, since Midnite Events and K-Lin Events, who hosted the show, posted it on Facebook.
"I have been listening to Dash since I was in high school," Bee Xiong, 24, said. "I was surprised and thought it was fake because nobody that famous ever really comes to Fresno."
Xiong said he waited a few days to make sure Dash was really coming to Fresno, and as soon as he was positive, he bought tickets.
Marcus Garcia, 22, said he had to buy tickets to see Dash Berlin.
"I've seen a few of his sets on YouTube and they are always lit," Garcia said. " I am excited to finally see him in person."
Before Berlin came onto the stage to perform, a duo DJ group called Lighthouse took the platform to play a few of their remixes.
They were a fun opener that got the crowd anticipating the arrival of Dash Berlin.  
When Berlin finally took the stage at 11 p.m., the excitement could be felt.
Everyone was screaming and shouting "Dash Berlin" while others were rushing to the front of the stage.
It was hard to move in the building since everyone wanted to be as close to Berlin as they could.
Berlin's first song that he performed is a remix of "Clean Bandit" featuring Zara Larson, "Symphony."
It got the crowd jumping up in down with the loud bass and beat drops.
With fun remixes from Coldplay, Ellie Goulding, Bryan Adams and many more, fans were able to dance and sing along with songs that they know.
Before the night ended, Berlin took a photo with the crowd and thanked everyone for coming to his concert in Fresno.