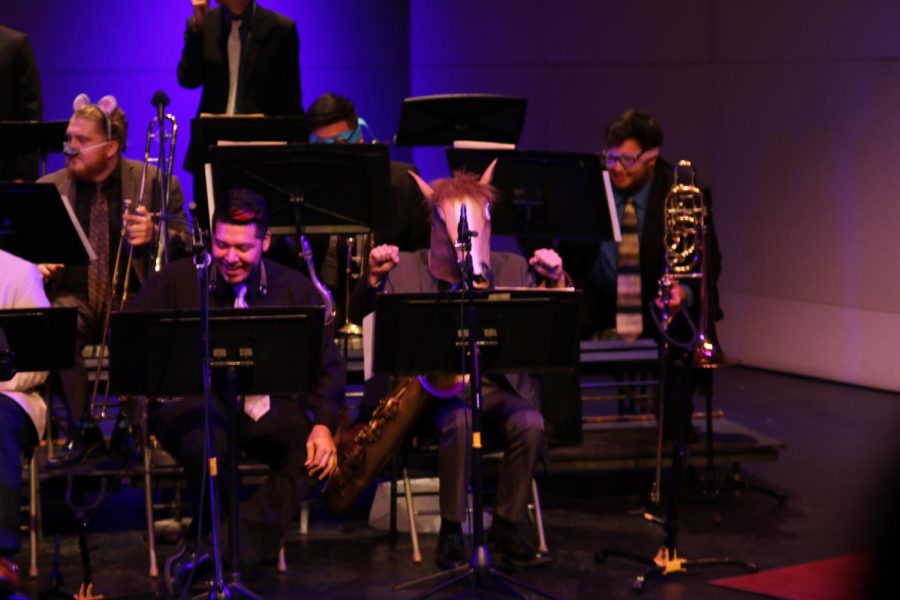 Melissa Moua
Fresno City College's Jazz Ensemble displayed their Halloween spirit and surprised their audience in the College Theatre on Oct. 18.  An all-female singing group, Femme Fatale, also debuted its performance that night.
Mike Dana, director of jazz studies, and Julie Dana, director of choral activities and voice, directed the performances.
The night opened with a solo by Alayna Clarno, a Femme Fatale singer.  Clarno performed a song called, "All of Me." The performance set the mood and the expectation for the rest of the night.
All members of Femme Fatale, which is French for "Dangerous women," sang a soft soothing piece that filled the theatre with life. The purple and pink lights reflected off the cheeks of the singers as they performed, and the audience swayed back and forth to the tune.
The singers performed six songs. Mariah Caudillo and Zoey Turney each performed solos. Caudillo sang partially in Portuguese, a language her grandmother spoke.
"After a couple of months of preparing, it's just feels really relieving and exciting," Caudillo said. "It kind of sets the tone for the rest of the performances."
Singer Zoey Turney performed "Old Fashioned" by Ella Fitzgerald, famous American Jazz singer. Turney's performance provided a sense of romanticized nostalgia and took audience back to the 1940s.
Femme Fatale performed their final song "Moon Ray," also by Fitzgerald. Each singer had a solo, and they finished in unison. The singers were powerful and they exude excitement and joy as they sang and moved to the music.
The jazz ensemble also performed six songs. The loud and energetic music provoked a toe- tapping sensation.
Mike Dana composed an original work called "Carving the Pumpkin" in spirit of Halloween. As Dana explained the tune, the musicians surprisingly took out costumes, fully ready to perform.
The trombone section was dressed as ninja turtles and baritone saxophone player, Blake McAllister, performed his final song with a horse mask. As they played, a surprise performer with black robes and a pumpkin head played an electric guitar solo.
The night ended with energy, laughs and applause.
"I thought it was really great. These guys work so hard and they're so dedicated," Mike Dana said, "and for the vocal group, same exact story."
He added, "Sometimes people say, 'Jazz is dead' or 'Jazz is for old people,' but I don't see how you can go to this concert and say that."