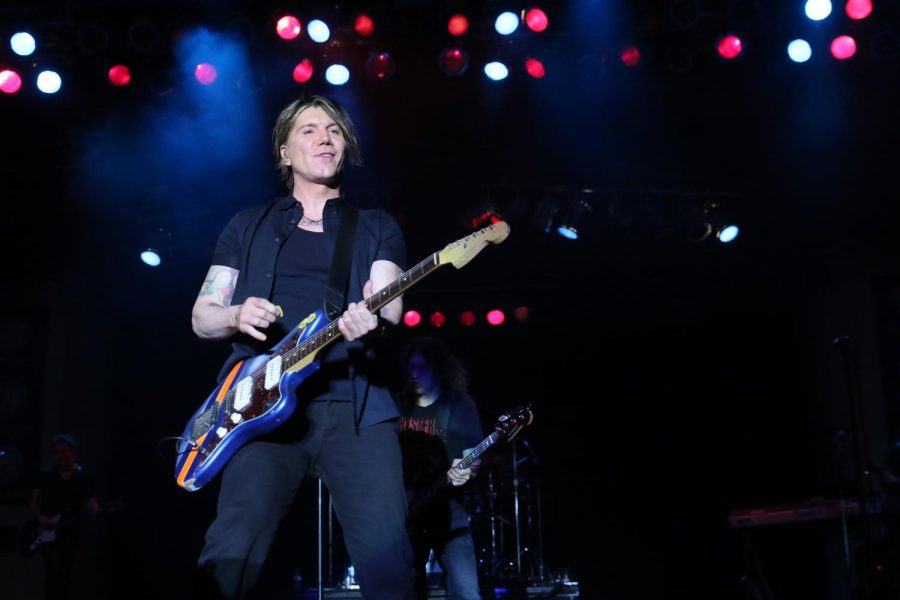 Photo by: Noah Villaverde
Goo Goo Dolls Put Authenticity Back in Rock
October 11, 2017
New York based alternative rock band the Goo Goo Dolls hit the Paul Paul Theater Stage at the Big Fresno Fair on Oct. 9.
The Goo Goo dolls, started in 1985, have a total of 11 albums in their discography to date. Although only two current members are from the original band, the Goo Goo Dolls have clearly not lost their sound or rhythm and brought nostalgia to full effect in their performance.
The audience was filled with fans of all ages, since the band has been around for 32 years and is still performing strong.
"Slide" was the first of many familiar tunes performed, which appeared on the "Dizzy Up the Girl" album in 1998.
To slow things down, the band performed the song "Better Days" from their "Let Love In" album released in 2006. The audience responded, raising their hands in the air and waving back and forth to the song's slower rhythm.
The band also performed songs from their recent 2016 album, "Boxes."
"So Alive" is a more recent tune that was enjoyed by the audience as much as they enjoyed the throwback hits.
In between songs, the band reached out and spoke to the audience.
"Actually, this is an exact replica – only bigger, of the guitar [he used for this performance] that Woody played in 'Toy Story'," said John Rzeznik, lead vocalist and guitarist, to the audience between songs.
The band closed the concert with their hit "Iris," which is famous for being in the 1998 motion picture "City of Angels." This song has made a huge contribution to the band's success as it landed a spot on their sixth album, "Dizzy Up the Girl." It also reached the No. 1 spot in the modern rock, pop and adult contemporary charts in 1998.
The audience was alive most during this song; hands were waving and lips were singing during this piece.
In this era of auto-tune and digital beats rather than instruments, it was a pleasant change to see live instruments and pure vocals in a performance. This event had the true feel of what a rock concert should be.