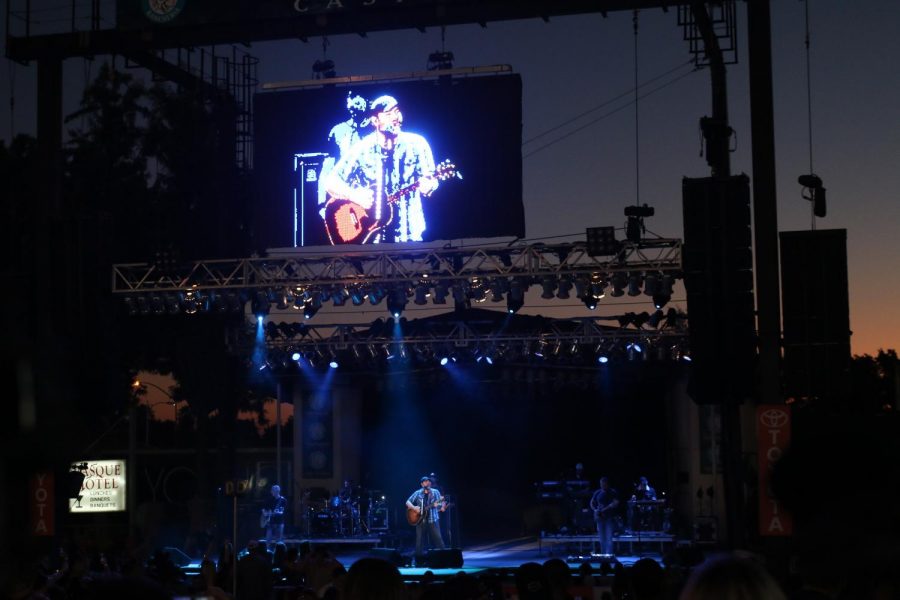 Photo by: Omari Bell
Chris Young Delivers an Emotional Concert at the Fresno Fair
October 6, 2017
Concertgoers welcomed the twangy tones of Grammy-nominated country star Chris Young at the Paul Paul Theater on Oct. 4, for the first concert of this year's Fresno Fair.
Young, who was present at the tragic concert in Las Vegas on Oct. 1, dedicated the first song of the show to the victims of the devastating shooting. A somber demeanor fell over the crowd of several thousand as Young performed a cover of Vince Gill's "Go Rest High On the Mountain."
"Go rest high on that mountain Son, your work on Earth is done," sang Young to the solemn crowd.
Jennifer Fulton, a Young fan attending the show, noted the impact of the song on the audience, and the significance of the dedication.
"When he played the Vince Gill song…for the Las Vegas people, that was awesome," said Fulton.
Following the emotional opening song, Young harnessed the quiet intensity of the audience into an upbeat energy as he began playing his first platinum-selling single "Gettin' You Home." This change of pace captivated the crowd, as many began clapping and singing along.
Between songs Young would entertain the audience with anecdotal jokes and playful introductions to the next tune. The crowd screamed when Young asked, "where are my single people at?" and quickly began laughing when he said, "y'all are all screwed, this next one's a love song."
Before beginning "Losing Sleep," the first single from his upcoming Oct. 20 record, Young expressed his pride and gratitude to be releasing the record on RCA, the same record label he has been on for the 11 year span of his career.
Throughout the evening Young would have the crowd entranced with fan-favorite songs like "Who I Am With You", and "Lonely Eyes" one minute, and the next minute have them laughing at a joke or his baritone-rich Conway Twitty impression.
The crowd of several thousand people was on its feet when Young began a cover of ZZ Top's "Sharp Dressed Man." Towards the end of the song, Young and the rest of his band stopped playing, allowing the drummer a two-minute solo to which the crowd erupted with cheers and applause.
Young has enjoyed a lengthy career of commercial success since winning the television singing competition show "Nashville Star" in 2006.
"Pretty good show," said concertgoer Aaron Sanchez. "He's putting on a good show, very interactive with the crowd. I liked it."