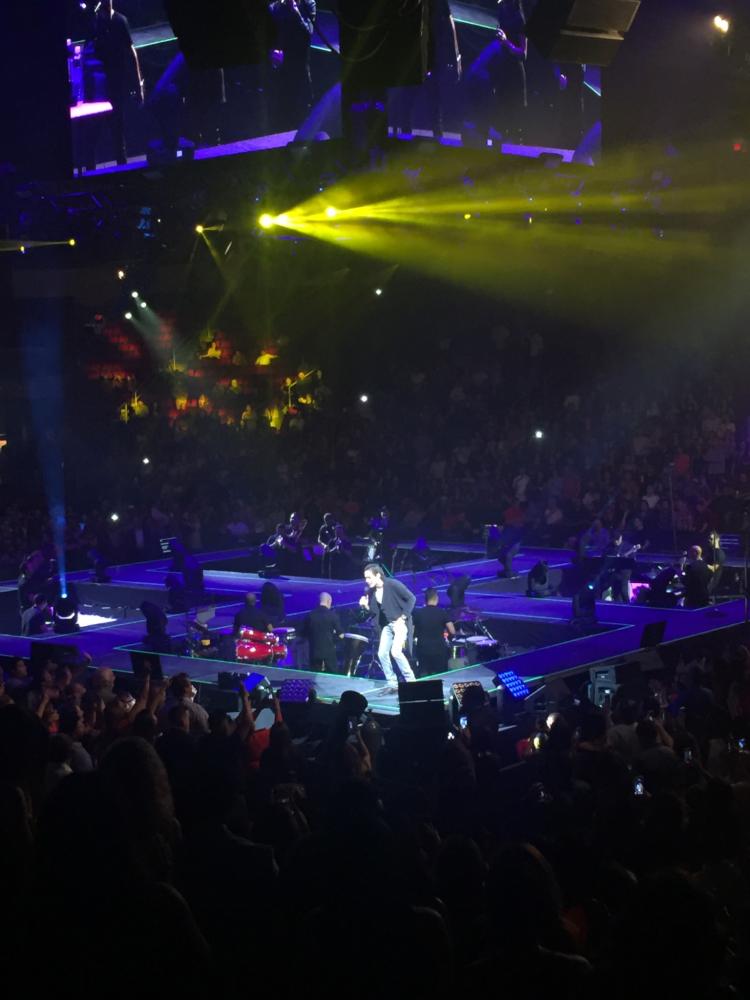 Melissa Moua
Fans of Latin music filled Fresno's Save Mart Center on Sept. 15 as they waited for Grammy award winner Marc Anthony to take the spotlight for his Full Circle tour.
It was the day before Anthony's birthday, making his performance extra special since he got to spend it with the people of Fresno.
Before Anthony's performance, however, comedian Joey Vega took the stage.
Vega took turns complimenting the different variations of Hispanics that filled up the arena, from Mexicans, Cubans, Puerto Ricans and many more.
Many fans waved their country's flags to show the many types of Hispanics represented in the audience.
Vega has been a long time friend to Marc Anthony and has been touring with him since 1999, according to Vega's personal website.
When it was Anthony's turn to perform, lights were dimmed, while the spotlight followed him from a side entrance to the main stage.
Fans screamed and shouted as Anthony took the center stage, shaking his hips from left to right as he sang "El Cantante," his first song of the night.
The song is an upbeat salsa song with the musical sounds of trumpets, drums and bongos.
Anthony was able to make the whole crowd stand up with this fun song, and many fans sang along.
Anthony showed off his talented vocals by holding a note for a long time.
His upbeat song 'Hasta Ayer' made couples leave their seats to the general admission floor to dance.  
While performing, Anthony had instrument battles with his band. He did a guitar battle with his guitarist and a drum solo battle with his drummer.
From start to finish, Anthony showed his fans love by interacting with them.
He took pauses within songs to talk to the crowds and even hugged a child.
"I want to feel my people very close to me and dedicate all my songs to them in a very personal manner," Anthony stated in an Billboard article in May 2017. "I want to thank them from the bottom of my heart for being with me since the beginning of my career."
Anthony kicked off his tour on Aug. 25 in Bridgeport, CT and it will end it on Dec. 3 in Chicago.
To end his performance, Anthony chose his hit song 'Mi Gente,' a song he sang and acted in for the movie El Cantante.
Fans in the audience sang one last time with him as he took a final bow and goodbye.