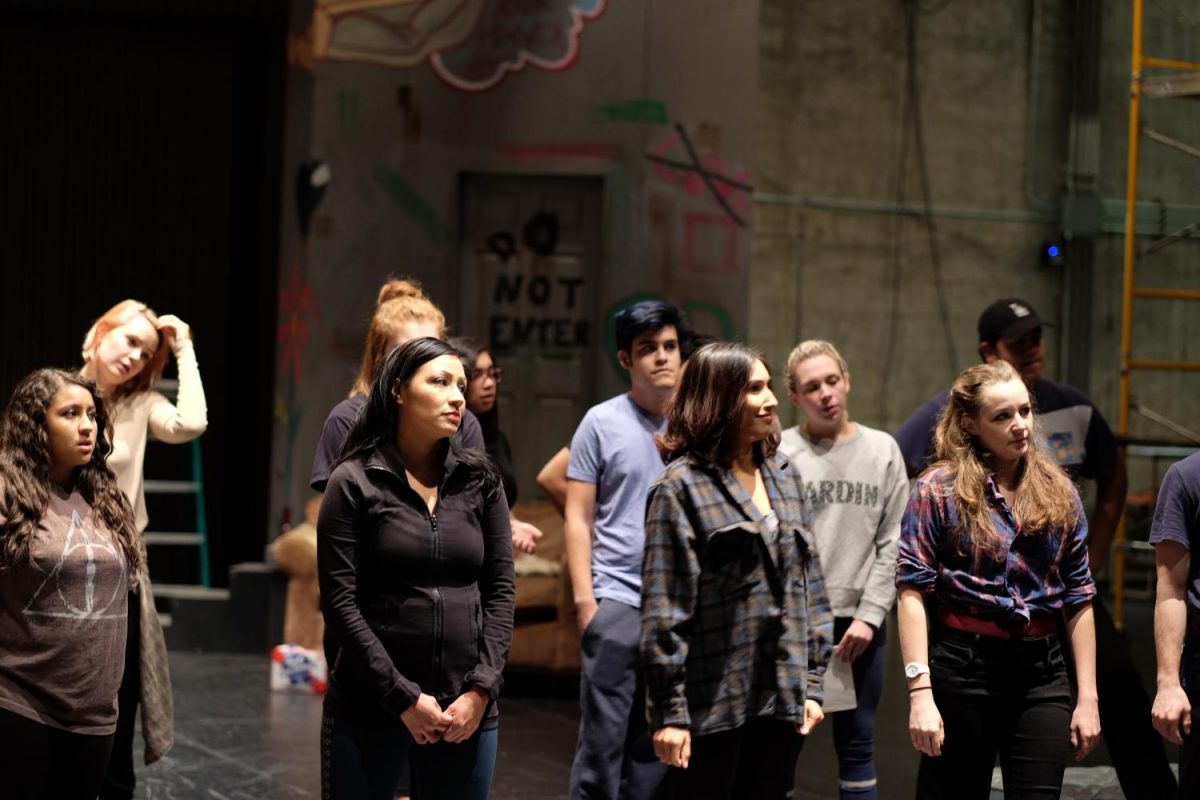 Ram Reyes
Theater arts instructor Chuck Erven is bringing a hit Broadway musical "American Idiot" to life at Fresno City College in a community theater performance of eight performances from Oct. 6-14.  
The cast includes actors from FCC and Fresno State as well as actors from the community. Erven is the director of the play.
"American Idiot" is a musical version of the hit album by Green Day and was written by the lead singer of the band, Billie Joe Armstrong. The political viewpoint of the album is depicted in the story of three young men named Johnny, Tunny and Will and their journey in a time when everything is not so well in America.
"There is a political background and real situations to it that's really interesting," Erven said, adding that audiences will enjoy the musical.  He said it will be a fresh feel to the campus and audiences from Fresno and Clovis.  
Erven said the actors are adjusting well to the play, given that their characters are not typical because the storyline strays from the typical love story scenario. He also said that this is the first time "American Idiot" will be performed in the Fresno area.
"American Idiot" is unlike most common musicals and contains characters with traits these actors are not used to portraying. However, under Erven's direction, the actors are feeling more confident in their roles.
Aaron Pierce, a Fresno State acting major, plays St. Jimmy in the musical. He describes Erven's method of directing as "taking us into directions that are challenging. I appreciate how he's pushing us forward and not just having us be in our comfort zone."
Marisa Sanchez, who plays Whatshername, says that Erven is very precise in his directing, but also allows the actors to be free and explore the characters on their own before he gives specific and concise direction.
Joshua Taber, who plays the main character, Johnny, is a history major at FCC. Taber said  Erven met with all the actors individually to talk about the play and to talk about their characters.
To prepare for their roles, the actors said they often avoid talking during the day in order to have their voices at their full potential during rehearsals.  
All three actors said the characters are heavy and they must stay in their mindset to accurately portray them.
Both Erven and the actors agree that any audience will enjoy this show, as they believe there is something they can take away from it. For fans of Green Day, it will be interesting to see how the album is turned into theater.
"American Idiot" will be performed at the FCC Main Stage Theatre on October 6, 7, 12, 13 and 14 at 7:30 p.m. and October 8, 13, 14 at 2 p.m. Tickets are $14 for general admission and $12 for students, staff and senior citizens. Tickets for groups of 10 or more are $8.