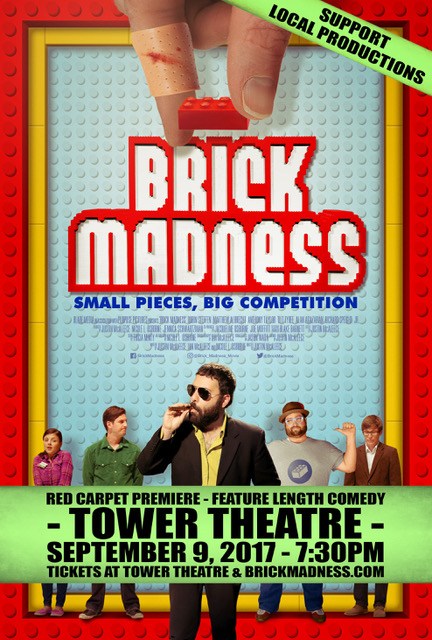 'Brick Madness' Fills Tower Theater with Laughter
September 13, 2017
Laughter filled the Tower Theatre on Sept. 9 for the premiere of "Brick Madness", a mockumentary film shot in Fresno that revolves around a LEGO building, or what builders in the movie call "brix", rivalry, and the eccentric personalities.
The film is crafted to look like a real sports documentary; the editing and story make it easy to take serious a subject that most might think is odd or just plain silly.
Justin McAleece  is the co-writer, director and star of the film. He told the nearly 500 people in the audience that the community was really supportive during the entire production process. He said he got to work with people he admired and wanted to be around, and that he was excited to show people what they all made together.
McAleece, who grew up in Fresno and studied broadcasting and mass communications at Fresno State, has worked on numerous films as a producer, actor and cinematographer, said he got the idea for "Brick Madness" while working on a short film in 2009.
"I wanted to do something that was underrepresented and that no one would think they would have a real competition and tournament for," McAleece said. "Something that you'd hear about and immediately say, 'no they don't do things like that, that's funny.'"
The film has a diverse array of actors that make you care about the characters and who know how to employ the comedy in the writing. Though it is shot to look like a documentary on a sports competition, each cast member brings their own brand of humor and heart to their roles, and it is evident that the cast and crew had fun making this movie.
There is an underdog element in the film with brix competitor Seth Paxson, played by Matthew Albrecht, who is trying to reclaim a charity he runs and clear the name of Max Grand, a legendary brix builder who was shunned after using glue in a competition. Albrecht plays the well-intentioned, almost normal guy, especially when compared to other more animated characters in the movie, but he does bring the heart to the film, and he is a talented actor.
The seriousness and intensity that actor Alan Agazarian delivers with Max Grand is hilarious because he brings the image of the embittered fallen athlete that is trying to teach a potential great the necessary grit to be an ultimate champion, only it involves LEGOS.
Conflict arises when Ricky 6, the arrogant and self-absorbed six-time Brix champion played by Anthony Taylor, is set to be director of Seth's charity assuming he wins the competition. Taylor has good comedic timing and can really bring the tone of a guy who lets a little bit of fame get to his head.
The film took nearly nine years to complete, but the story and visuals really flow well into one another.
"What's really amazing is that it took eight years to make that movie, but you watch it here and there is no separation in time and filming," said local news personality Kopi Sotiropulos. "Everybody did a great job. The nuances, the comedy, the looks, the delivery, just great acting."
Local actress Rease Eztler said she really enjoyed the film and that it really made her laugh.
"It was great. Justin, he's the main brain behind all this, and he's funny," she said. "It was very creative and it's one of those underdog movies where you want the underdog to win."
McAleece said that he was happy with the film's reception and he hopes that his film will have a lot of replay value, and that people watch it more than once. He plans on trying to get more distribution for his film and make it available on more platforms for more people to enjoy.