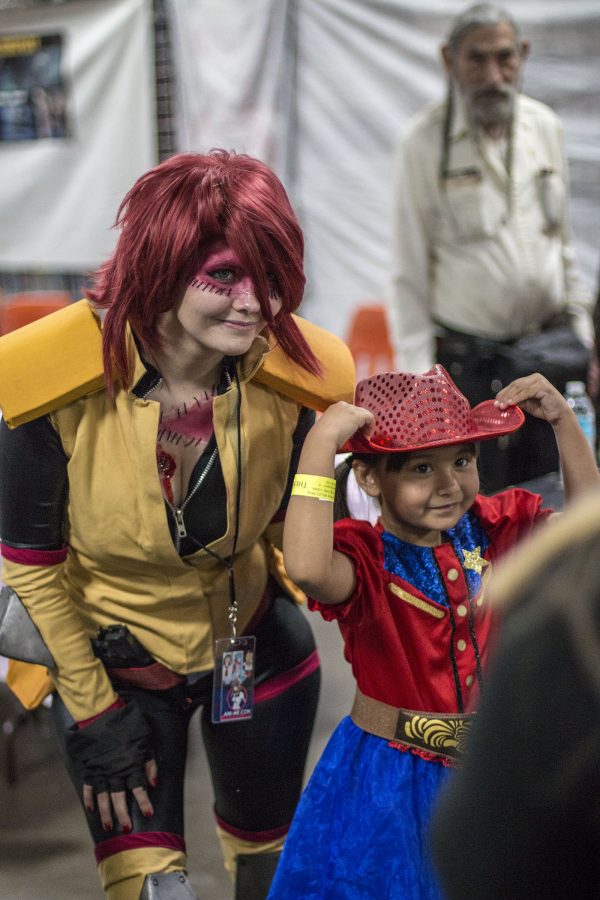 Larry Valenzuela
The world of pop culture came to the Fresno Fairgrounds with the sixth annual Ani-Me Con on March 18 and 19. With the sights and sounds of concerts, vendors, maid cafe and cosplayers during the two day event, there was something for everyone to enjoy.
The event featured 138 vendors from all over the Central Valley, selling an array of items from comics, sci-fi, movies and anime. Attendees had many options to choose from, such as action figures, comic book, replica swords and key chains.
This was not just a vendor fair; the event featured other activities for attendees to engage in. The convention also had live performances from musicians and dance groups such as Lovely Rushers, DJ Royal T and Corps Dance Crew as well as special guest voice actor panels, cosplay contest and live action roleplay duel tournaments.
Attendees are just as much a part of the event as the featured guests when they come to the event dressed as their favorite characters, for they go all out in their outfits bringing their characters to life down to the smallest detail.
Event coordinator Rick Phoeung was overwhelmed by the turnout as the event sold out after the first two hours of the first day's activities. Phoeung said he tried to have something for everyone, no matter what shows, movies or pop culture memorabilia they are into.
"The event had always been a success, but this year has been our best one yet," Phoeung said. "We try to cater the event to everyone by adding more guests and vendors in our events to keep things fresh."
No activity in the convention provided attendees a more unique experience than the Kinu Cafe which offered customers the option of having a maid or butler serve them. Instead of simply serving customers, however, the maid or butler would sit down at the guest's table for a conversation or tabletop game.
Butler Pedro Asahi said the Kinu Cafe provides patrons an experience they don't get from any other cafe.
"We try to have fun with our customers and give them the experience by sitting down with them and playing tabletop games and getting to know them," Asahi said. "The more comfortable we make our customers feel, the more fun they will have and want to come back."
Conventions like Ani-Me Con provide the perfect place for participants to take pictures with their favorite fictional characters. They are able to use their cell phones to take pictures, or be photographed by professionals at the Donovan Conway Photography company's booth. Photos could be of themselves or with cosplayer Jessie James Hollywood.
"We meet a lot of people, and we want them to have fun taking high quality photos with a cosplayer," Conway said. "Being able to feel comfortable enough to take photos while getting in character in cosplay is the best way for everyone to have fun."
For new guests, first impressions are everything. Kirstyn Hobson, who is a first time attendee, said she enjoyed the event and looks forward to next year.
"It had a lot of things that I am into, from comic books to all of the homemade stuff," Hobson said. "All of the things that happened during the event is really making me look forward to future events whenever they have them."