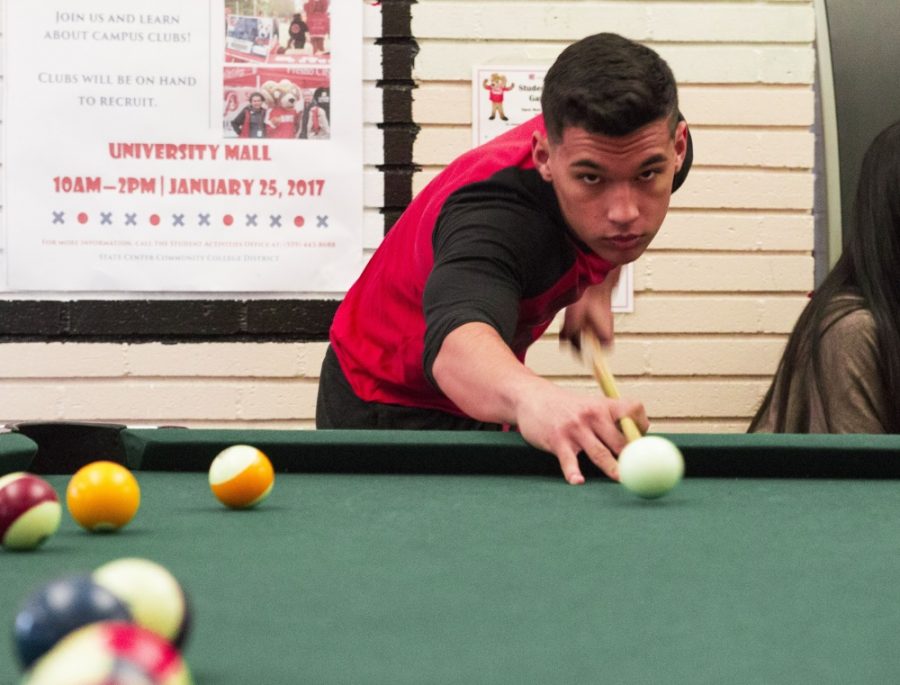 Larry Valenzuela
If you are on campus and are looking for a fun way to pass the time with some friends, there is a hidden gem just waiting for you to discover for yourself.
The Game Room is a mini-arcade located in the same building as the Cafeteria and Student Lounge, just behind the Old Administration Building.
The Game Room is run by student activities and is here for you to enjoy with three pool tables for those who like a friendly game of billiards, a Super Bikes 3 arcade game for the racers, an Aliens Armageddon shooter arcade based on the Aliens film franchise, and two Prize Palace claw machines for those who prefer to test their luck and skill by grabbing prizes with a remote claw.
A cheap way to have some fun with your fellow students, the Game room only charges per game that you play.
A game of pool only costs $0.75 and they ask that you have a current student ID to check out a pool stick.
As for the arcade games, it is $1 for the Super Bikes and Aliens Armageddon and only $0.50 for the Prize Palace Machines.
Unfortunately, the change machine inside the room is out of service so they ask that you bring your own change to pay for the games. They also provide rewards stamp cards to reward their frequent visitors. For every ten games of pool that you play, they will give you a free game.
One student, Wesley Uy, said that he comes in the Game Room, "every day when I have free time." This is his second semester at Fresno City College and he has taken part in several pool tournaments that the Game Room holds. "(The tournaments) may start out slow," he said, "but as people get out of class, it really starts to pick up."
This room isn't just fun and games though, there are some rules to follow while visiting the Game Room.
They ask that you have a current student ID, do not bring any food, drinks, or gum into the room, do not stand around the front counter, do not play pool without a pool stick or share pool sticks.
They do not allow any gambling, public displays of affection, profanity, or bringing children into the room.
If you are looking to give the Game Room a visit, you will have to stop by during the following hours: Monday thru Thursday from 8:00am to 5:00pm and Friday from 8:00am until 3:00pm. And if you want to make the most out of your time there, why not stop by during their Gamer's Hours; for an hour every day they give out an extra stamp on their player rewards card.
They do this at 9am on Mondays, 10am on Tuesdays, 11am on Wednesdays, 12pm on Thursdays, and 1pm on Fridays.