Radio Personality Kimberly Marquez Finds Inspiration Through Listeners
Story By: David Chavez, Managing Editor/Copy Chief
June 10, 2016
A typical week for Kimberly Marquez starts by setting her alarm Monday through Friday at 4:30 a.m. and getting ready and leaving her house by 5:50 a.m. The Greg and Dre Morning Show is from 6 a.m. to 10 a.m. As a producer for the show, she has to be very active; constantly going back-and-forth, posting on social media, screening calls, researching news and brainstorming ideas for conversation, and she is also on the air during the show. Once it hits 10 a.m., she has her own show until 2 p.m. Once that is over she goes to school, and afterwards she usually tries to do homework, but then it depends when she has side projects. Those side projects include interviewing artists, making appearances and hosting duties. She gave an example of when she has to host a "club night" on a Tuesday. After going to her night class, she has to go straight to the club. That adds up to almost 24 hours of nonstop activity but she never complains. She is glad she is not wasting any days. On weekends, she works at the clothing store Bebe. After that job, she usually does "remotes" or side projects like aXceso VIP, and many times the interviews are conducted before the artist goes on stage or afterwards. After a particular interview, she got home and was able to get around one hour of sleep and then had to get up to get ready for work.
Kimberly Marquez, also known as Kimmie from the midday show for Q97.1 FM, has perfected the ability to balance various jobs while still being able to be a model student.
Marquez was born and has spent most of her life living in Fresno, California. However, when she was little, her parents separated and her and her mother moved to Mexico until she was around 6 years old, when her parents decided to get back together and move back to Fresno. When Marquez was 11 or 12, her parents divorced. She remembers her mom would work a lot, because of that, she always lived with her grandparents.
In sixth grade, she got into Computech middle school which was kind of a big deal to her family because that is a school you have to be admitted into. She would then attend Roosevelt School of the Arts, at Roosevelt High. In high school, she was very active and participated in acting, dancing and cheer. She was cheer captain her freshmen year and senior year of high school. She also took advanced ballet and jazz classes. In 2012, she graduated and is now attending Fresno City College looking to obtain her degree in communications.
Growing up, it was tough without her dad around. She would see kids in Mexico with both their parents. In Mexican and Hispanic tradition, divorce is a bit of a taboo subject. She recalls going to school in Mexico and seeing children being picked up by both parents and how that would make her feel left out. Marquez believes that only made her stronger. She's happy she's grown up into a super positive person.
"I grew up surrounded with love," she said.
She missed having a father figure, but she's grateful her grandfather filled that role. He would always give great advice, the same advice he would tell her mom and her aunts. Marquez was taught how to carry herself, how to grow up to be a lady. She learned that reputation is very important, it is very critical what you do because it can affect you throughout your whole life.
Her mom, Araceli Morales, is one of her biggest inspirations. She sees how much her mom loves herself and is at peace despite being a single mother and going through all she's been through. Because of the example set by her mother, she knows that she too can grow up to be a strong woman. She remembers seeing her mom at her lonely times and all the tough times the two of them lived together.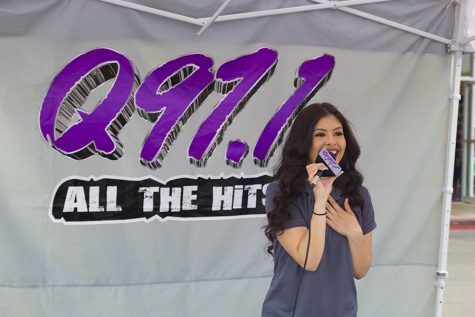 At a young age, she always dreamed of being an actress, singer, and dancer. She has always loved performing and her mom has always been a huge supporter. She remembers St. Anthony church in downtown Fresno would have festivals and they would have performances, singers, dancers and musicians come out. This one particular time her mom asked the organizer if it was OK if Marquez could come out during intermission and showcase her talent. She would go out there and dance and although she wouldn't sing, she would lip sync to Mexican singer Belinda's music and mimic the way she danced and copy all her certain movements. The crowd would go wild.
Marquez has always enjoyed being around people. She identifies herself as being a loveable person.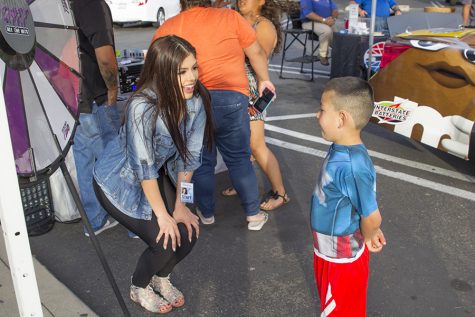 In high school, she was the rallies and activities commissioner. Her duties included hosting all rallies and lunch activities. She would have to be in front of people and constantly be on the mic hyping up the crowd.
"This person I once dreamed of being, I was living it in high school," she said.
She remembers how she would always get lost in character. She said her cousin Anna and her would have notes and use hairbrushes as microphones, they would draw cameras and put them on the wall and they would pretend to be news reporters. Now, sitting in front of cameras and talking into a microphone every day is what she does for a living.
Everything she dreamed of as a girl, little by little was coming true.
"In life, you have to find your purpose. Everyone has a God-given gift, and it's up to them to use it to the full potential," she said.
Nearing the end of high school, she realized that not only did she want to act, but she also wanted to reach more people. She heard about internships. For her first two semesters of college, she interned at the radio station B95. She instantly fell in love with radio. After two semesters at B95, she was told she could not return to intern for a third semester. When the doors shut, she felt as though her world ended.
"I was so in love with radio, how could I lose it so quickly?" she said.
A random time though, about a month or two after she had stopped interning, she went with her friends to John's Incredible Pizza and she heard a familiar voice behind her and it was Greg (morning show). They talked casually and he told her about how he switched over to Q97 after she told him her situation about not being able to go back to B95. He said they were taking interns for Q97. She went throughout her day and she thought about it. She was still slightly bummed about how everything went down the first time so she couldn't process it fully at first. She did not feel complete not being at the station. When she went down to the station, she went after class and said she was looking "bummy". She met up with Greg for a quick interview with the program director. After she got her internship at Q97, things started to fall together. She kept proving herself by going in during her free time and she tried to continue learning. While all this was going on, not only was she working at Q97, she had a retail job during the weekend, and she was going to school during the week. She was also part of the street team/promotions assistant for Telemundo for a semester.
When she moved to Q97, she remembers the time Danny Salas, assistant program director for Q97, told Marquez and the other interns that he had good news and bad news. The bad news was that they couldn't return as interns, and when she heard that, she recalls her heart feeling like it was breaking inside because she was really looking forward to come back. However, the good news was that they could return as part-time street team members.
That experience helped her see that she belonged on the radio. She would always tell herself that she can do better. She interned for Greg and Dre's morning show. She said that she has always been a visual person and she learned by watching them and how they managed things and how professional they were. She doesn't like asking a lot of questions because she wants to prove that she can handle everything without asking for a lot of help.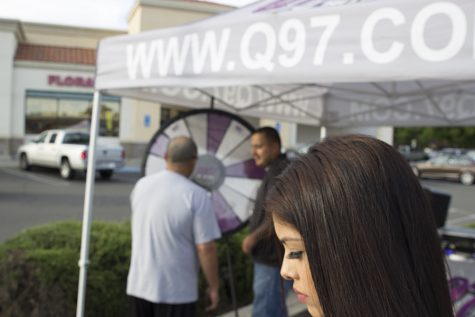 Many interns got frustrated and quit because they didn't see any progress. A lot of them lost patience. Marquez chose to focus on the experience instead. She reflected on the people she met and soaked in everything she saw. She basically did thousands of unpaid work. She remembers when she got a call from Greg that would change her life forever. During the call, he told Marquez he was working on getting his team together and he started listing people and as he was getting to the end of his list she heard him say '…and our girl, Kimmie'. Her heart dropped when she heard her name. She was told that she was going to be producer for the morning show and then get her own show from 10 a.m. – 2 p.m. Before that call, she used to go home and get on her knees and cry out to God. As an only child, she didn't have siblings to turn to and her mom was always working. After hearing the news from Greg, she got on her knees again and thanked God for keeping her strong despite the feelings of doubt that were hovering around the corner.
Her dream goal is to act and to be in front of a camera. She wants to be a TV personality and stay on the radio as well.
She remembers doing her first commercial for AutoMaxx.
"It's always fun when people admire your work," she said.
Right now, Marquez is doing radio, going to school, working in retail, and she just finished filming a trailer for a horror movie called "Secondhand", a film by Tremendum Pictures, the production company behind the movie "The Gallows". Marquez is also one of three hosts for the talk show "AlienNation" which can be seen at www.revolierfilms.com and www.lainmigrante.com. The show will center around "La Inmigrante" (The Alien), a film series about revenge in a foreign country She also hosts a YouTube channel called "aXceso VIP", in which she has interviews with A-list Mexican artists.
Her goals would be to act in horror, comedy, action or even romantic films. It would be a wish come true to act alongside actors and actresses like Sandra Bullock, Brad Pitt or Jennifer Aniston. One of her aspirations is to be on "E! News" or "Despierta America", the Spanish morning show.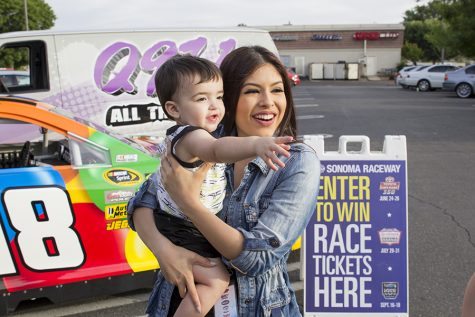 "If you love your job, you're not working. That's what I want to feel for the rest of my life," she said.
Marquez believes that the central valley is a place of opportunity.
"I love Fresno, there's a lot of potential. A lot of talented people trying to pursue and follow their dream. I'm one of those people. Fresno is a place to always come back to no matter where life may take you," she said.
If there's an opportunity, she encourages everyone to take advantage of it and to get as much experience as they can. Marquez says that people should think about volunteering or trying to get an internship and realize that it is not all about the money.
"If you love it, you'll stick with it. If you don't, then you'll complain about not getting paid. Quitters don't go anywhere," she said.
She recalled the time she realized just how much bigger the world was outside of Fresno. She flew out to Las Vegas for the Latin Grammys for work, and after that experience, she saw just how much there was beyond the county lines of Fresno.
"Always think of the bigger picture. Start here and prepare yourself," she said.
When she went to Universal Studios, for the premiere of the new Wizarding World of Harry Potter, she had the chance to meet radio personality Piolin from Piolin "Por La Manaña". He is someone Hispanics look up to because of where he came from and where he is now. She also met Rikki Martinez, who goes by Letty now and who comes on Big Boy's neighborhood. She met her and she got to talk to her. That experience helped her believe that she belonged. If it's not in L.A., not in New York, it can be in her hometown.
"If the opportunity comes to move to a bigger market, I will never, never forget about Fresno. I will never forget about the people who supported me from day one. Fresno was the spot where doors opened up for me in the first place. That door will never shut."
Marquez wants to be able to inspire young women and let them know that nothing is impossible.
"More than a role model, I want to be more like an older sister to all the younger girls out here," she said.  "I have young girls come up to me, they want to take a picture, they want to get to meet me. They're always telling me that I inspire them and that they look up to me, that I'm their role model and they want to be just like me."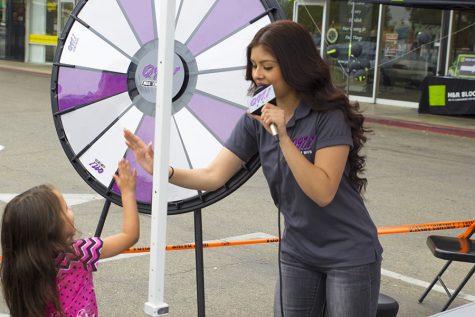 Marquez says that makes all the hard work worth it and that she wakes up extra early every morning to not let them down.
"This is what it's all about. Seeing their smiles and their energy when they come up to me just lets me know that I'm doing something right," she said. "And at that moment, I hear God saying, 'You're in the right place'."
Marquez is excited for what the future holds.
Her biggest accomplishments are staying true to herself, loving herself and not giving up.
"I feel like I've accomplished so much in my 21 years of life. I'm blessed and not losing faith. When you lose faith, you lose direction. Negativity will always be around, but it's up to you if you want to carry yourself when no one is around," she said. "Stay positive and good luck. If I can do it, you can do it."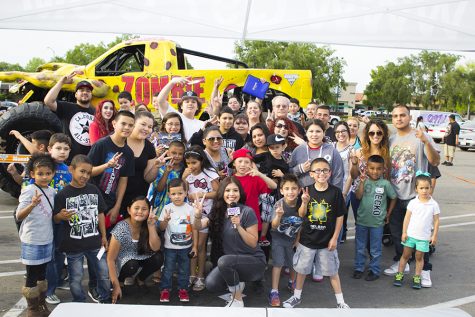 About the Contributor
David Chavez, Reporter
David Chavez is 25 and is in his sixth semester taking classes at Fresno City College. He is a journalism student and he plans to finish with a bachelor's...