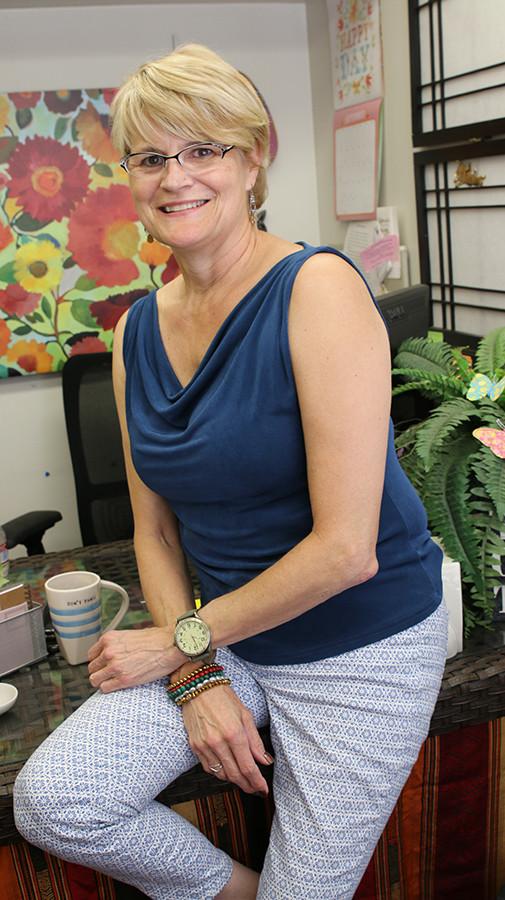 Albertina Rodriguez Delgado
Instructor's thrifty style thrives 
Do you ever wonder or get curious about what type of trends your professors like to wear?
English professor Zay Logan says "My style I think is classic, and it's got a bit of a 'cha-cha' to it." Logan explains that she likes to follow the classic trend, "If it's changed just a little bit to match the fashion that's cool…I like a little bit of change, because it keeps me current."
Logan goes on to say that this style is appropriate since she is a role model to many students that she is teaching.
Logan says not all English professors have to wear Birkenstocks, but says to dress as a teacher you have to be clean, and well put together and always be aware of what's going with your outfit.
"Because there's always a problem, like the zipper being down, so you just gotta look at yourself in the mirror and make sure that you're looking good." Logan said.
When it comes down to inspiration Logan always goes with Attitude and Virginia Woolf.
"Virginia Woolf says what we wear changes our view of the world and I think that's true. If you're wearing something you're not comfortable in, you're not the same person."
But says she'll go for discomfort, especially when it comes down to cute shoes.
When Logan is not teaching or at school she likes to wear comfortable dresses like sundresses, and says when she is at school she can add some leggings and some cute shoes to those dresses to make it school appropriate.
Logan likes the classics like "The trousers, the button-up or button-down shirts, sweater and that kind of stuff you put a little bit of a kick to it, you can always stay stylish with the classics."
The two things Logan says are her go-to clothing items are her plaid slacks, even though the plaid is barely noticeable, and her Oxford shirt.
When shopping, Logan says she likes to shop at family-owned, female owned or thrift shops "that have some really interesting clothes, because when I go off the classic I wear interesting clothes when I'm not working–sometimes when I'm working."
Logan's favorite fashion icons are "Katherine Hepburn and Audrey Hepburn–Audrey Hepburn especially." Logan also thinks some of the clothes people wear are interesting.