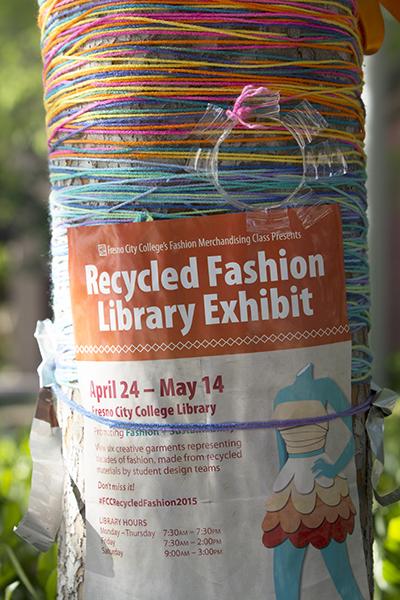 Albertina Rodriguez Delgado
Making trash into clothes? Is this becoming a new thing?
Well, students from Fresno City College's Fashion Merchandising class did just that.
FCC instructor Pam Hutton had approximately 15 students who worked on the "Recycled Fashion" exhibit on display since April 24 in the FCC library.
"Our theme is always to promote recycling including recycled or repurposed clothing and the message that students are trying to get across is that more than 20 billion tons of textiles goes to landfills each year," Hutton said. "So they want to encourage students to send their clothing to thrift stores, buy from thrift stores to reuse clothing so that not so much of it goes to waste."
Hutton's class provides insight for those students planning to pursue a career in fashion.
People come to her class either through Skype or in person throughout the year to talk to students about a career in fashion. Students are also encouraged to ask the guest speakers questions.
Prominent people in the industry visited the class to look at their installation including denim wholesaler, James Riley, owner of American Blues Trading company who is from Fresno and Kenny Lange, former merchandiser for Ralph Lauren in New York.
Hutton said, "They [the designers] were very impressed."
DeAndre Clark, fashion design major, worked on a "white dress that is made out of white plastic trash bags" and held together with staples.
"It seemed to be greatest form of recycled material that I could use in abundance," Clark said. "So I wouldn't run out; I would just have a lot to use."
Clark described his dress as a mixture of the 1860s silhouette and a Cinderella effect.
The students had to sketch out their ideas and get it approved by Hutton, but once they got their approval, they could start constructing their garments.
Yazmine Enriquez, fashion merchandising major, said she "took inspiration from a lot of fashion artists that are out right now mainly Donald Robertson"
Her piece was made out of newspaper, paper mache, and duct tape. "We had a lot of newspaper, so we just decided to go with that," she said. "The hardest part of it actually was the pleated part on the back of the outfit."
David Robley, fashion merchandising major, worked on the Glittering Blossom. "The top is made out of Starbucks bags,which are laminated foil," he said. "The bottom is made out of denim scraps that we bleached and then dyed purple, and then over the denim, we did a dripping pattern made out of CDs that we blended in a blender."
He ended up breaking the blender, but said "it was worth it." Robley said it was tedious and "took about between 10-20 hours."
The exhibit runs until May 21 and is open from 7:00 a.m. to 7:00 p.m.