A Strange Ride with Primus' Green Naugahyde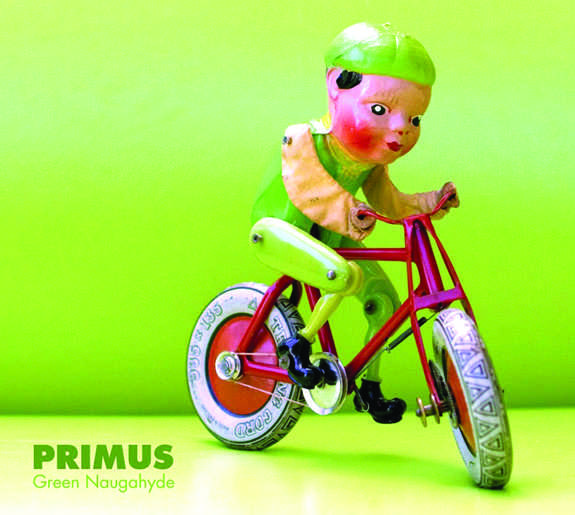 Story By: Frank Lopez, Rampage Reporter
September 21, 2011
Release Date: Sept. 12, 2011
Record Label: ATO Records, Prawn Song
Experimental/Alternative rock group Primus is either too weird to like or too unique to be disliked.
They're dorks and they let you know that with the music they produce. They have fun with their weirdness and they want you to be aware of it.
I can honestly say that I have never had as much trouble describing any musicians work as I have had while describing Primus' music.
Green Naugahyde is their seventh studio album and the first one that Primus has released in 11 years.
With Les Claypool's bouncy bass lines and cartoonish vocals, out-of-tune experimental guitar riffs from Larry LaLonde, and heavy but precise drumming from Jay Lane, Primus epitomizes the large gap in popular music that has been widening since the release of their last album "Anti-Pop" in 1999.
"Prelude to a Crawl" opens the album with sonic experimentation and blends into fast bass-slapping and scratchy guitar with "Hennepin Crawler." Claypool sings in his often used toad-like voice and the band jumps into a very cartoony and melodic break.
Claypool writes about American consumerism in "Eternal Consumption Engine." The song opens with Indian percussions and rhythms. The song has a spooky Indian carnival sound that sets up Claypool's voice as he mocks Americans obsessed with materialism by singing, "Here in the USA we sure do like to spend our pay. The more I make the more I buy, slinging out the pieces of American Pie."
The song ends with Claypool repeating "Everything is made in China."
Primus jumps into a funky rhythm that has the fun but heavy sound with "Tragedy's a' Comin'." It has the fun and silly sound of the old Primus albums.
Claypool uses "Eyes of The Squirrel" to poke fun at how the Internet has everyone connected and how Americans waste their time viewing trivial content. "Barry swings his bat, piano playing cats, big mouth drunken whores. The eyes of the Squirrel are watching drama that's for free on reality TV, where's that tuna casserole."
There is the morbid heavy synth and bass bumbling of "Jilly's on Smack," a song about a female heroin junkie that dies.
The strongest and most fun track on the album is "Lee Van Cleef." The song is about the old days when Claypool was young and everything was fun. The song is supported by a repetitive but incredibly catchy and bubbly bass line.
A really weak point in the album is the two-minute song, "Green Ranger." It has a repetitive drum beat layered with a fuzzy synthesizer droning in the background while high guitar notes twinkle throughout. Claypool lazily sings "green ranger" through most of the song.
"Hoinfodaman" is another satirical song that attacks product advertisement. The song starts off with a hard rock guitar riff and a powerful and steady drumbeat as Claypool sings "How 'bout one of them foot-long sandwiches. Got some tasty cola right here. Now look at the Chevy go, she's faster then greased up lightning."
"Extinction Burst" is probably the weirdest track on the album. It has strange vocals, really fast bass and guitar work, and very surrealistic lyrics. It takes familiar melodies and vocal styles from the rest of the songs on the album and almost serves as an entire recap of the album.
The album closes with a funny and short melody called "The Last Salmon Man."  The organ work sounds like something that would be featured in an old movie about pirates at sea and the only lyric is the song title.
Primus strays away from their older and sillier sound and gets a bit heavier and serious. The lyrical content is much more topical and socially observant than other material on Primus' previous albums. They are much more mature with their music and lyrics. Old Primus fans might me dismayed with Primus' progression into music that is still strange and amusing but much more refined and technical.
They are no longer doing what just sold in the past, but they are venturing into different musical and poetic horizons. Primus is not selling out to themselves or the public.  I would recommend Green Naugahyde, but if you are not familiar with any of Primus' previous music, it's going to be a strange trip.